​​​​​​​Solution

An insect wine bar named Chirps based in Soho, London.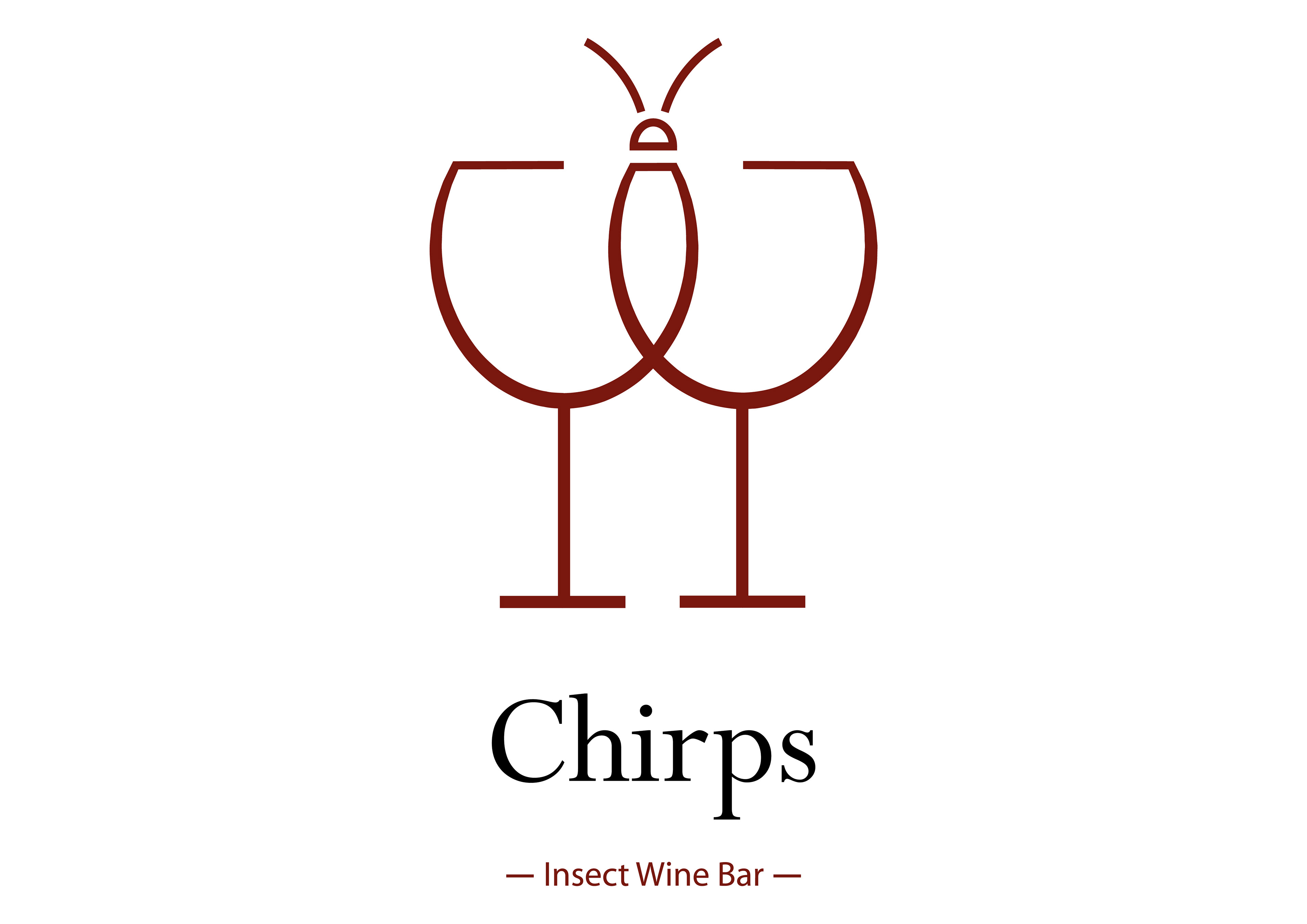 Logo 

Chirps insect wine bar is a place to go after work for a drink, some food and to socialise with friends or to possibly take someone on a date. The logo incorporates all three brand values; wine, dating and insects. The logo is designed to look upper class with its limited colour palette of black and wine red and its simple, elegant and clever design.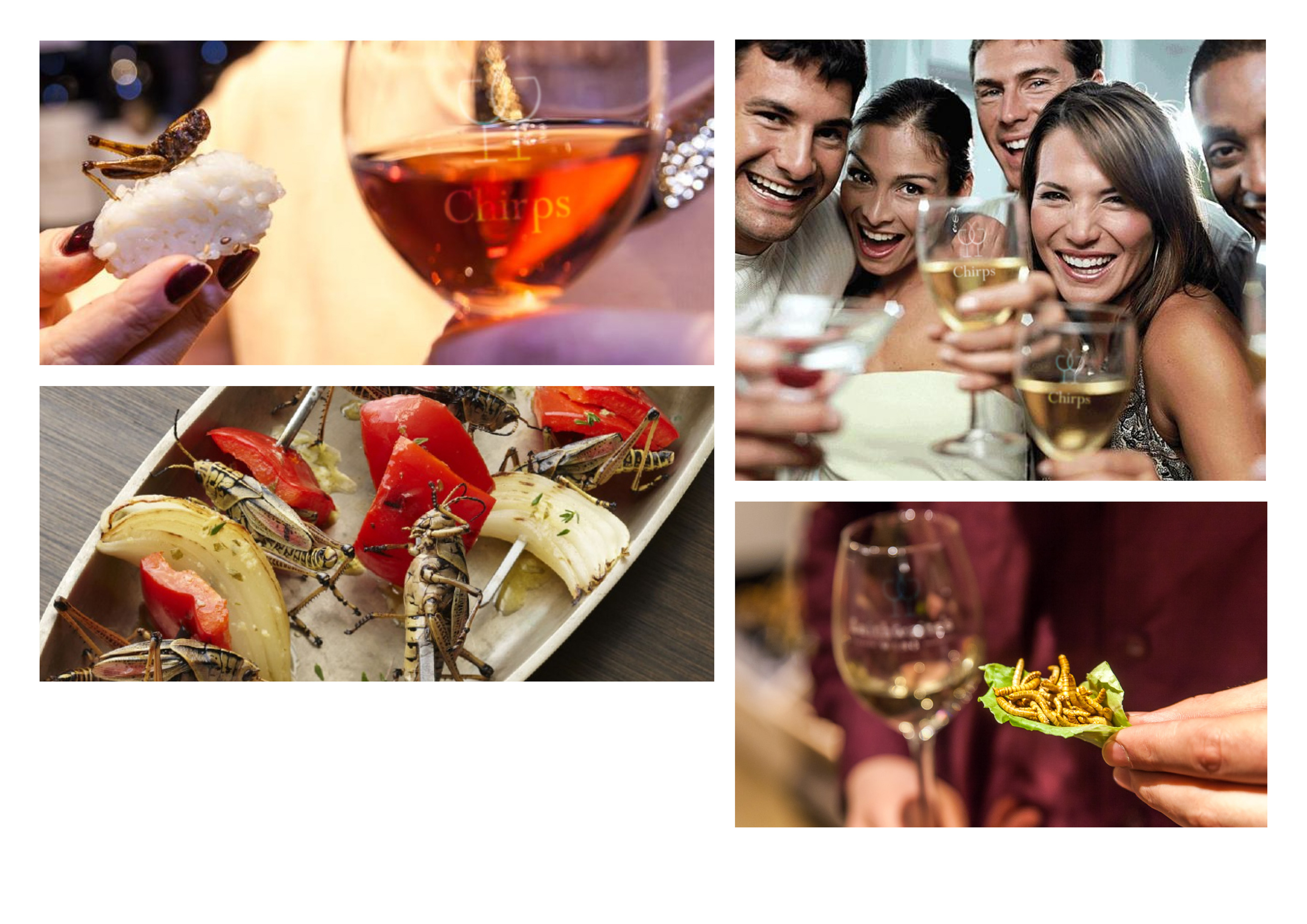 Atmosphere

Chirps has a social, relaxing and adventurous atmosphere. The idea of tasting insects is repulsive to the majority of Western society so by making it a social experience people will be more inclined into giving it a try. The idea of a wine bar came about because insects and wine pair well together, it was also a way of normalising insect eating by not making it a spectacle. My target audience is 20-30 year old males and females with a high income because research shows to make something desirable it needs to start at the top.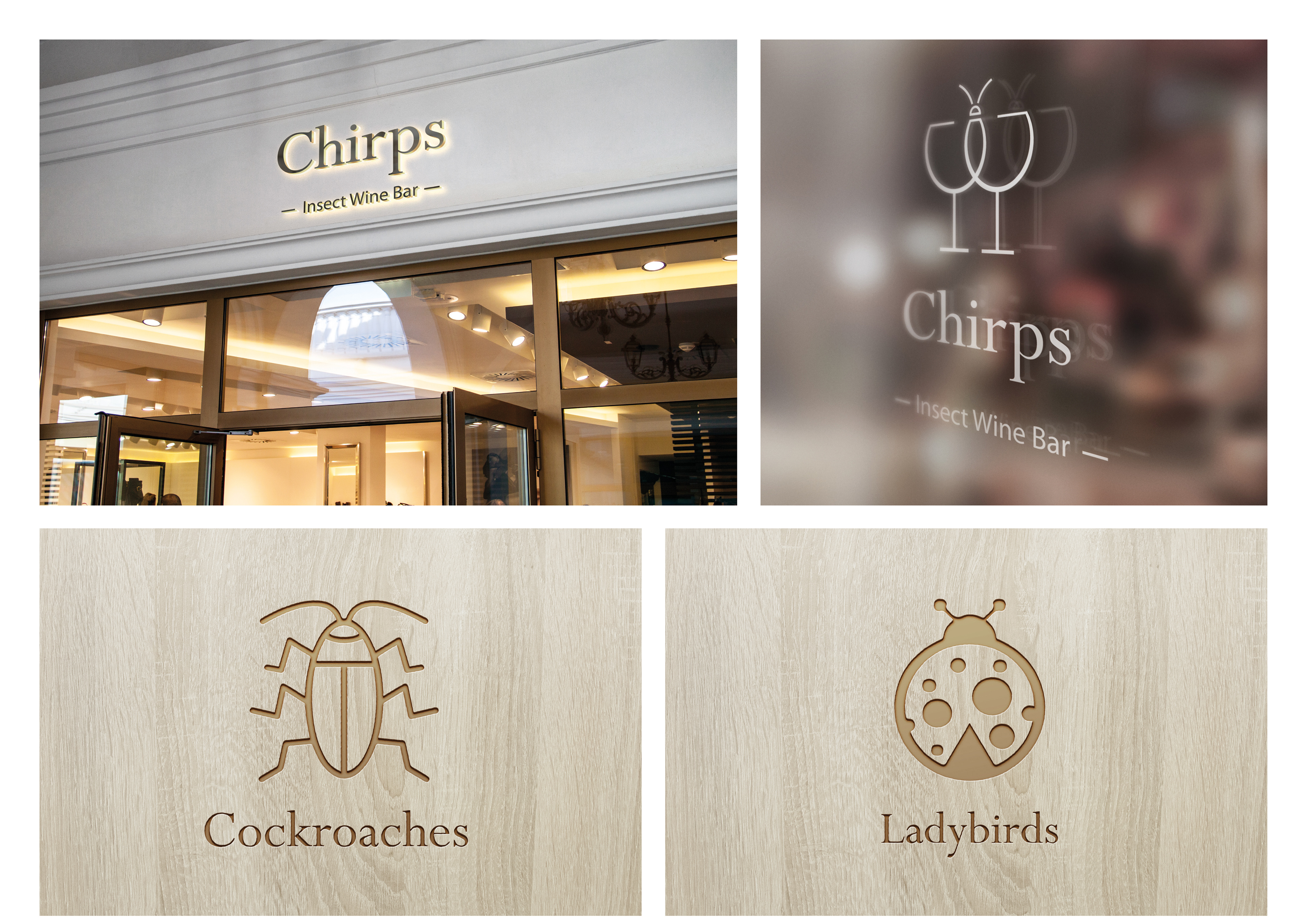 Signage
The bar is very clean, modern and high end to appeal to Chirps' audience and location of London. However, to add a bit of humour and light heartedness to a very new and different experience Chirps has witty bathroom signage inspired by insects.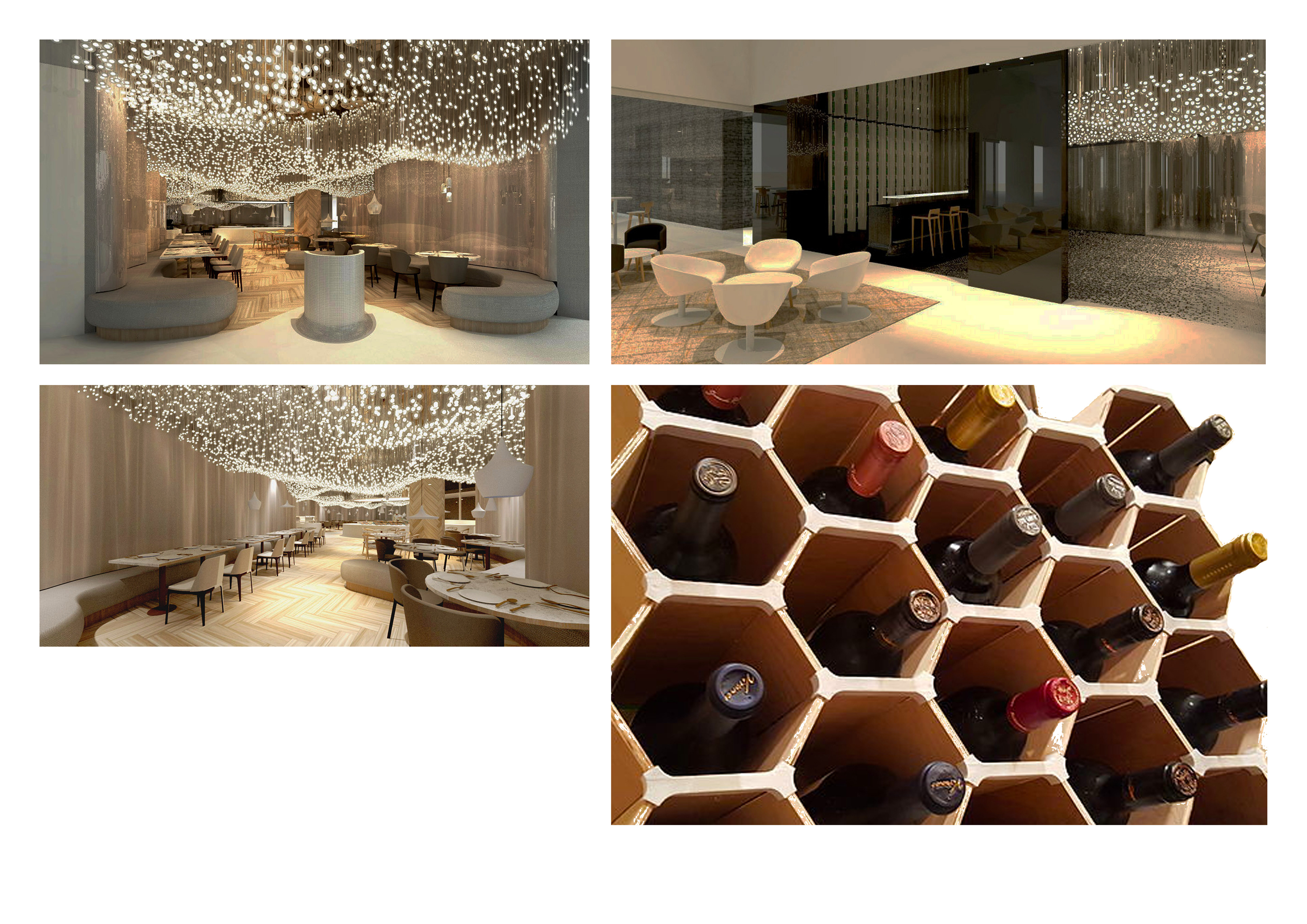 Interior Design

The space is very open and inviting with sit down tables for the focus to be on food and group socialising or small nooks to have intimate conversations and to hide away in with a glass of wine and a side dish of insects. The architecture and interior has insect influences that are done in a very modern and tasteful way. The lighting in the bar reflects fireflies, it is sensual and calming. Another subtle touch of insects is the hexagonal wine storage influenced by bee hives.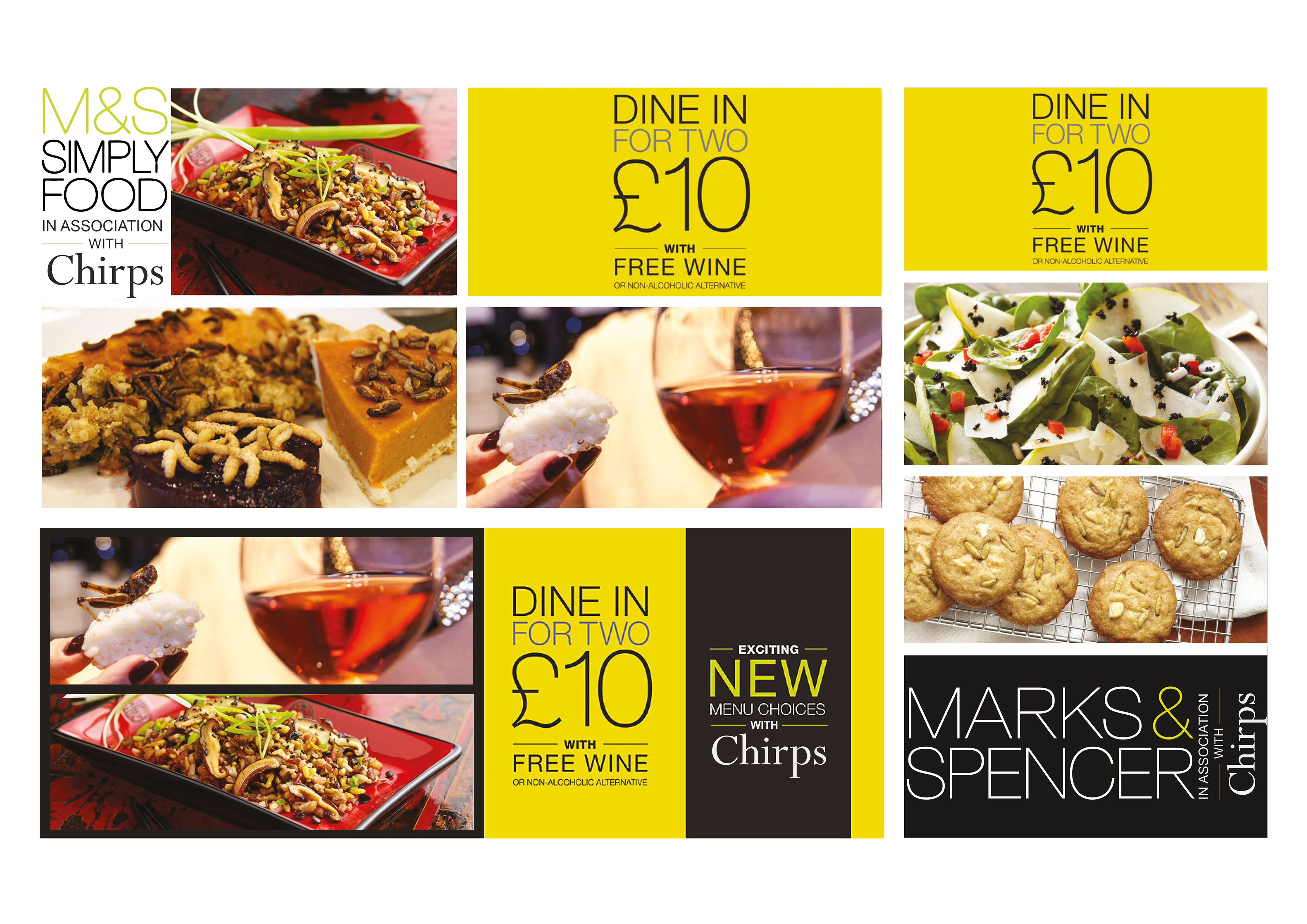 Promotion
In order to help Chirps reach a wider audience I paired the brand with Marks and Spencer's whom has similar brand values. A few times a year Marks and Spencer's run a promotion of dine in for 2 for £10 which includes a free wine. The new collaborative promotion of dine in for two for £10 lets Marks and Spencer's sell Chirps' insect cuisine and paired wine for an exchange of brand awareness. This promotion allows Chirps to reach people in their homes and not just wine bars in London.